THINK WITHIN THE 9:16 BOX- VERTICAL STORYTELLING
Guan Hin Tay
The Future is Vertical.
By 2019, vertical storytelling format will take up 80 percent of all internet traffic. The traditional horizontal 16:9 format is turned on its side, 9:16 vertical videos will be the new normal and is developing as an innovative form of storytelling.
By 2021. 82% of internet traffic will be consumed by online video.
50% of the time people spend online is on a smartphone.
9 out of 10 mobile users will share videos with others.
It's a global Phenomenon.
More than 75% of worldwide video viewing is mobile.
Vertical Storytelling is on your mobile screens is the key to increasing your brand's market share on social me-dia.
Discover how to create content designed for the vertical format as more of us hold our phones upright when viewing content.
Three key learnings:
How to create impact thru Vertical Storytelling in today's mobile world?
How to break into a digital world where lots of great video content exists?
How to generate innovative ways to increase your mobile video presence?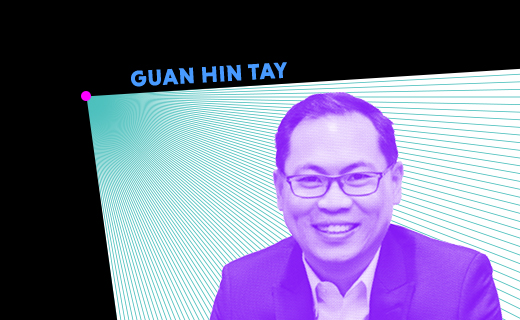 Guan Hin Tay
Founder & Global CCO
TGH Collective
Singapore
Tay Guan Hin is the Founder of TGH Collective and the Creative Change Catalyst of the APAC Global Advisory. He has helped Shell, Johnson & Johnson, Abbott, P&G, HSBC, Unilever, and other global brands improve market share and solve business challenges. He operates well within this complexity always matching flawless execution with inspiring creative ideas, staying true to the DNA of the brand. Guan is the true collaborator, a profound alchemist of creative success in a team working in the most creative agency worldwide networks, like JWT, Saatchi & Saatchi and Leo Burnett. Guan's role continues to evolve: delivering insightful creativity that builds on digital and innovative engage-ment to increase brand preference.
He has been fortunate enough to be recognized in Cannes Lions as a Jury President, D&AD Fore-man, One Show Judge, Head of Jury Asia Pacific Effies, creative innovator, and a tank mechanic. As a thought leader, he is a sought-after keynote speaker in many global and regional conventions in-cluding Spikes Asia, One Show China, Brand Fest, ADFEST, Brand Forum, Ad Stars, and Cannes Lions.
Guan devotes the same passion that goes into his work by mentoring young talents. Setting up the first student awards in Singapore called the Crowbar Student Awards and also hosted the Young Lo-tus workshop for two years in a row.