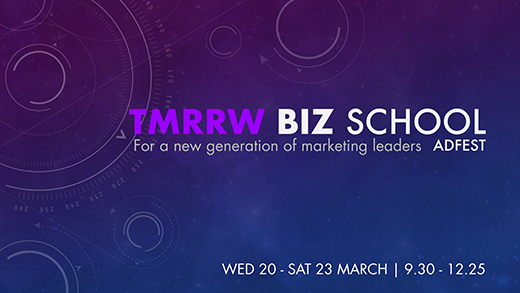 TMRRW BIZ SCHOOL
A NEW TYPE OF SCHOOL FOR A NEW GENERATION OF THINKERS
ADFEST's DNA is all about Creativity. TMRRW BIZ SCHOOL is a creative business school designed to educate and inspire marketers to think creativity by building their careers for the future. It's been conceived to transform knowledgeable experiences that go beyond the classroom. By learning from award-winning industry experts from their specialised field in creativity, data/technology and business.
WHO IS IT FOR?
Headed by Guan Hin Tay, Founder & Global CCO of TGH COLLECTIVE and a Creative Change Catalyst at APAC Global Advisory, as the Principal, TMRRW Biz School is specially designed for clients who want their marketers to learn how to think both strategically and tactically using creativity. Those who want to upgrade and future proof their career.
Eligibility
Interested applicant must be a client, marketer, or agency's account management team

Interested applicant must be a registered delegate of ADFEST 2019

Reservation is strictly first-come-first-served & seats are limited to only 50 delegates only

Registration is not confirmed until you receive a confirmation notification from ADFEST
WHAT WILL PARTICIPANTS GET?
Learn new creative and marketing skill using Data/Tech to support their organization marketing department. By working more effectively/efficiently with today's tools to achieve outstanding results.
Learn a set of multi-diverse skills to rise above the ranks and be future ready. Created to respond directly to both today's needs and tomorrow's challenges in an ever changing fast paced marketplace by learning and applying the essential tools, techniques and process of innovation.
Learn real-life case studies from leading experts as they share their inspiring content and how they solved business challenges thru creativity. They will be given task and challenges designed to accelerate their progress at the end of the program to test their skills against each other to maximise their knowledge
Leave the school with greater competency with practical techniques and tactics that they can apply soon after.
CURRICULUM TMRRW Biz School will be held Wednesday 20th-Saturday 23rd March at 9.30-12.25
3 Lectures will be given per day covering 3 different disciplines
Each lecture takes 45 minutes, followed by 15 minutes Q&A
TODAY'S GENERATION INSPIRING TOMORROW'S GENERATION
Principal
Tay Guan Hin
Founder & Global CCO, TGH Collective Pte Ltd
Former JWT SEA, Regional ECD, Global ECD Unilever
COURSE AGENDA & LECTURERS
Wednesday 20th March
9.30 – 10.25
Welcome & Opening:
Jimmy Lam: President, ADFEST
Course Introduction / Participants Self Introduction / Team Grouping:
Guan Hin Tay: Principal, TMRRW Biz School
10.30 – 11.25
HOW TO BUILD YOUR PERSONAL AND PROFESSIONAL BRAND ON LinkedIn
Anthony James
Executive Director, Trinity Consulting Services, Sydney
11.30 – 12.25
WHAT DROVE THE 375 BILLION RMB SALES IN ONE DAY
Christine Wang
General Manager, E-Commerce, Publicis China, Shanghai
Thursday 21st March
09.30 – 10.25
SESSION DETAILS TO BE ANNOUNCED

Shagorika Heryani

Head of Strategy MENA, Grey Group MENA, Dubai
10.30 – 11.25
HUMANITECH
Jax Jung
Global Creative Director, Cheil Worldwide, Seoul
11.30 – 12.25
THE 7Es OF MARKETING
Richard Lee
Former Chief Marketing Officer, PepsiCo & Master Hong Greater China &
Co-Founder & Chairman, Frontier Communications, Shanghai
Friday 22nd March
09.30 – 10.25
THE VALUE OF CREATIVITY, PAST, PRESENT AND FUTURE
Natalie Lam
International Executive Creative Director, New York
10.30 – 11.25
STAY OBSESSIVE
Pinit Chantaprateep
Vice President, Global Branding, Double A (1991) Public Company, Bangkok
11.30 – 12.25
WHAT WOULD BE A BRIEF-FOR-TOMORROW TO BUILD A FORWARD-LOOKING
PARTNERSHIP WITH YOUR AGENCIES
Mitsuyuki Nakamura
Global President, dentsu X, London
Saturday 23rd March
09.30 – 10.45
Course Review / Team Presentations
11.00 – 12.25
Critiques, Certificate Presentation & Closing:
Guan Hin Tay: Principal, TMRRW Biz School
Vinit Suraphongchai: Chairman, ADFEST
*For more details, please download TMRRW BIZ SCHOOL Information here.