SPEAKERS : THASORN "PETE" BOONYANATE, CCO BBDO BANGKOK: FROM ADFEST STUDENT VOLUNTEER TO CHIEF CREATIVE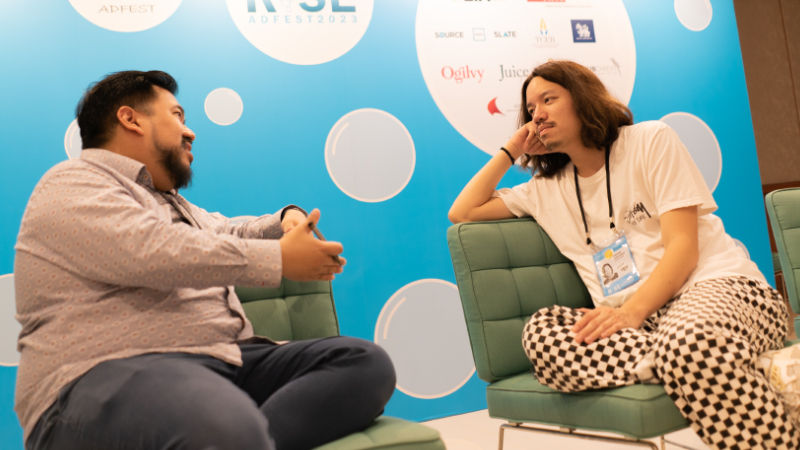 Thasorn "Pete" Boonyanate represents the next generation of creative leaders in Bangkok. In just 12 years, this storyteller, songwriter, film director and editor has risen to become BBDO Bangkok's Chief Creative Officer at the age of 36 with over 150 local and global awards (including Grands Prix at ADFEST) under his belt. A creative that's always brimming with passion, it's no wonder he's also known as Crazy Pete in the local industry.
But Crazy Pete wasn't always a creative rockstar on the rise. In fact, right here at the Pattaya Exhibition and Convention Hall several ADFESTs ago, Pete was a student volunteer, running errands that ranged from fetching water for jurors to mounting presentation boards. We speak to Pete to learn more about his journey, and the lessons that's shaped him along the way.
You had your humble beginnings right here in this convention centre working for ADFEST. How did your experience here shape you?
I was a student then at Assumption University Bangkok, and I had the opportunity to volunteer for ADFEST as a liaison. I was doing tasks like making sure jury members were comfortable, and helping to mount presentation boards onto the panels at the exhibition area. I had all these campaigns from around the world literally in my hands. As I saw people go on stage to collect trophies for some of these ideas, I told myself, "One day, I'm going to be on that stage to collect a trophy myself."
My wish soon came true, thanks to one of my first mentors Khun Judee (Jureeporn Thaidumrong). Together with other amazing people at JEH United, we won a Grande in Film at ADFEST in 2011 for "Sorry Thailand."
After starting your career with a Grande-level bang, you then went on to be not just a writer, but also a film editor, songwriter and director. Was copywriting not challenging enough?
Back in university, I learned content production and film editing as part of my new media course. That's where I discovered my love for directing, and I knew if I didn't put theory into practice, I wouldn't just run the risk of not developing those skills, I'd also lose them completely. I've also always been a naturally curious, playful person. I just can't sit still and am always on the lookout for my next experiment.
Fortunately, I had great mentors such as Khun Suthi (Suthisak Sucharittanonta), a legendary creative who also dabbles in directing. They didn't just see me as cheap labour to cut case study films. They encouraged me to nurture my craft in film. I worked on everything from music videos to ads, on top of being a writer. Eventually, with Khun Suthi and the team at BBDO Bangkok, I won not just my first Silver Lion as an editor and director. We also won Thailand's first Gold Lotus in Branded Content and Entertainment at ADFEST for "Blind Taste TV".
I'm guessing being uncomfortable with being too comfortable must've inspired your 2-year adventure in Shanghai. How did that experience shape you?
Shanghai was where I grew from a boy to a man in advertising. I went from working in a culture I grew up wit to leading a team in a completely different market - one of the largest economies in the world with even larger client expectations, with talents whose cultural backgrounds were so diverse and different from mine. To add to the challenge, it was also my first foray as a leader. I was promoted to creative content leader in under 3 months at Fred & Farid Shanghai, then as Creative Director at BBDO Shanghai.
I was just a 29-year-old, a Thai person in a foreign market, and I was tasked to build a team from scratch. I won't lie, it felt like a heavy burden on my shoulder. Fortunately, we went from a team of one to a team of eight in under a year, and I managed to lead the team to several creative and new business wins.
Soon, job opportunities from markets like Chicago and Hong Kong followed. But I made a promise to my wife that I'd return home after two years. So, in 2017, I returned to Bangkok to become JWT's Creative Director and Head of Content & Digital.
Two important lessons followed me home: First, celebrate diversity. We wouldn't have had the success we did in China if we didn't have a team from diverse backgrounds. Secondly, create a playground for creativity. China could be too rigid at times, and I knew in my next adventure, I wanted to create a safe space for my team to experiment.
Those lessons must have contributed to your successful run at JWT/Wunderman Thompson.

Definitely. I also learned that if you don't shoot your shot, your ideas will be nothing more but scribblings on paper. For instance, when it came to "Dear Client, Thank You For Cancelling Our Work," I took a gamble by telling the TCP clients during a presentation for another campaign, "I'm not asking for your permission. I'm just letting you know that I'm doing this and will be posting it on my personal social channels." I read my script to them, and fortunately, all they had to say was: please do it.
It also pays to nurture a strong creative team who feel they can be playful and take risks. Together, we won over 60 international medals, from Gold Cannes Lions, to Grands Prix at ADFEST and AD STARS. We won over 85% of the pitches we took part in in 2021, with accounts like Tinder, TikTok, LINE and more. But perhaps my proudest achievement was seeing two of my young creatives win in the local young creative competition to represent Thailand at ADFEST's Young Lotus 2019 competition.
You're quite a "Young Lotus" yourself: after being a creative director at 29, you eventually became Chief Creative Officer at BBDO Bangkok at 36. Did your youth present challenges?
Ageism goes both ways: on the one hand, we need to do more to respect the experience of our veterans. On the other, when you are seen as too young for your position, people can't help but question your credibility. I knew I couldn't avoid it. All I could do was let my work speak for itself.
I spent my first year working in the trenches with each and every team, putting in passion into every brief and team I worked with, all so I could ensure that every single creative felt proud of the work they were doing, not just one or two "star teams". For the coming year, we hope to venture beyond making people want things with ads, into making things people want, be it a content series, a music festival or even a useful digital or physical product.
Youth has its advantages of course: you're closer in age to the new generation of talent. What's your observation of the next generation of talent in your market, and how can we do better to support them?
I think it's a combination of my age and curiosity. I love observing people, from their mannerisms to the shoes they wear (in case you're wondering, for the Gen Z in Thailand, they're obsessed with Crocs, something my generation wouldn't want to be caught dead in back then). That doesn't mean you have to force yourself to "act young" by speaking their lingo or wearing Crocs. That'll just make you seem like that uncle who tries too hard to seem young.
Ultimately, we need to listen more to them, instead of just complaining how we can't seem to retain Gen Z talents. Their worldview on success and happiness is so different from ours, and forcing our definition of success and hard work down their throats won't endear our industry to them. We also need to believe in them a little bit more. These digital natives have their own ways of solving problems. When we listen to them and believe in their potential, only then can we start to build agencies and an industry that they'd be proud to work in, every single day.
Emir Shafri, Chief Creative Officer, Publicis Groupe Malaysia