JURIES : MEET THE JURIES: FILM CRAFT LOTUS & NEW DIRECTOR LOTUS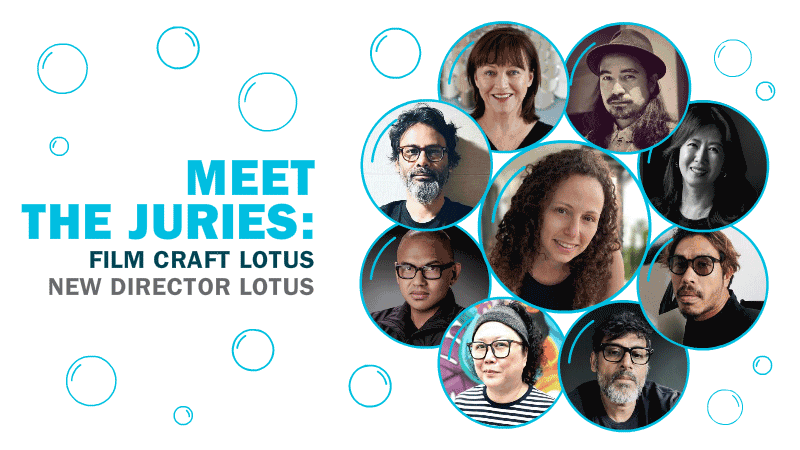 This year, ADFEST Lotus Awards will return to Pattaya, Thailand to conduct its first live judging in four years, which takes place just before ADFEST 2023 held during Thursday 23 - Saturday 25 March. The ADFEST 2023 juries will be responsible for reviewing and rewarding exceptional work produced across Asia Pacific and the Middle East in the last year. This year's juries feature a cross-section of most innovative and brightest minds from the region. Each jury panel will judge some of the most ground-breaking work and the juries were chosen with the aim to ensure diversity across markets, backgrounds, and gender.
The Film Craft Lotus and New Director Lotus will be led by Laura Geagea, Regional Managing Director, Sweetshop China, Asia and MENA. Laura began working with Sweetshop Asia in 2015 as a freelance producer and was soon brought into the fold as Executive Producer Asia & MENA. She opened Sweetshop's office in Shanghai in 2017 and today Sweetshop China is the fastest growing office in a network of seven, while Sweetshop Asia is the second. Under her leadership, Sweetshop Shanghai became the fastest growing office in a network of eight, with the office's revenue increasing 47% in 2021.
She speaks six languages, which has helped to develop as a genuinely international creative female leader working to elevate the advertising industry in Greater China and Asia-Pacific. Laura has led the Sweetshop team to produce commercials for major brands such as Lux, P&G, OnePlus, Budweiser, Michelin, Vivo and Vidal Sassoon, and helped win business in Asia for brands such as Olay, Agoda, Spotify and Tiger Beer.
The full Film Craft Lotus and New Director Lotus jury is:
· Jury President: Laura Geagea, Regional Managing Director, Sweetshop China, Asia and MENA, Shanghai & Bangkok
· Abhinav Pratiman, Film Director, Early Man Film Pvt Ltd, Mumbai
· Emma Daines, Founder & CEO, Fin Design & Effects, Sydney
· Erik Reiff, Partner & Chief Creative Officer, Black Cat White Cat Music, Tokyo & Bali
· Jeorge Agcaoili, Film Director, Arcade Film Factory, Manila
· Ji Young Lim, CEO & Managing Director, Planit Production, Seoul
· Rajay Singh, Film Director & Founder & Father, Directors Think Tank SEA, Kuala Lumpur
· Rebecca So, Head of Film, Media.Monks APAC, Singapore
· Tanis Pintong, Film Director, Dylan Films, Bangkok
For more information about ADFEST 2023, visit www.ADFEST.com