NEWS
JURIES : WHAT WAS IT LIKE TO JUDGE THE ADFEST 2020 AWARDS?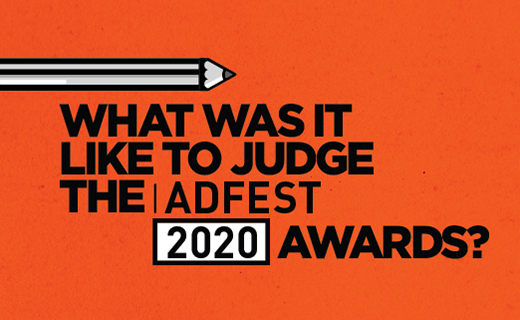 We asked our all-star jury to share their overall impressions of judging ADFEST 2020.
Here's what they said…
Judy John, Global Chief Creative Officer at Edelman Toronto – Grand Jury President / Jury President of eCommerce Lotus, Media Lotus & PR Lotus
"I think INNOVA Lotus is the most exciting category at ADFEST because this is where we see creativity shaping the future. Every finalist idea was surprising and inspiring in how it helped solve a human need, or in how it could be applied to solve many different problems in many different businesses."
Kalpesh Patankar, Chief Creative Officer MENA, VMLY&R Dubai – Jury President of Digital Lotus, Digital Craft Lotus & Mobile Lotus
"The discussion standard was very high among great intelligent minds with inspiring debates. As a juror, you always look for those creative pieces of work which surprise you in a nice way. We were looking for ideas with innovative thinking at the core and innovative use of technology and data to deliver a relevant, meaningful and powerful brand message with strong impact and results. For us as a group, winning work should demonstrate the kind of brilliance that raises the bar, has an effect and pushes each category forward."
Pip Smart, Executive Producer & Partner, Revolver, Sydney – Jury President of Film Craft Lotus and New Director Lotus
"It was a great pleasure to judge Film Craft Lotus with my esteemed jury. We had a lot of fiery debate about each choice in every sub-category, but when it came to this year's Grande in Film Craft Lotus (which went to Dentsu Creative X Inc., Tokyo and Dentsu Inc., Tokyo for 'Mori Building'), it was pretty unanimous. This blew us away in so many craft categories that it was clear that it was the one."
Anuwat Nitipanont, Chief Creative Officer at BBDO Bangkok – Jury President of Audio Lotus, Film Lotus, Outdoor Lotus & Press Lotus
"ADFEST has very high judging standards – to win a Grande, it must be work that can push the industry and is something that we can learn from. We were looking for world-class ideas that not only perfectly represent each category but are made from a great insight, and find a genius way to deliver the idea."
Ted Lim, Independent Creative Consultant, Singapore/Kuala Lumpur – Jury President of Branded Entertainment Lotus & Effective Lotus
"We need forums like ADFEST to recognise good work and set standards so the industry has a North Star to look to and learn from, to produce more of the ads that people love and less of the ads that people loathe. Good work doesn't look or feel like work. Good work is like a good friend. We want to spend more time with them, we want to hear what they have to say."
Sling Ng, Film Director & Co-Founder, Directors Think Tank, Singapore – Film Craft Lotus & New Director Lotus jury
"The rise of technology has changed the advertising industry in a drastic way. It's exciting to see producers and creatives finding more innovative and refreshing approaches to produce their work."
Paul Chan, Chief Creative Officer, Cheil Hong Kong – Audio Lotus, Film Lotus, Outdoor Lotus & Press Lotus jury
"Honestly, judging ADFEST 2020 was a great experience. I was in fabulous company with a wonderfully smart jury led by our Jury President, Anuwat Nitipanont (Chief Creative Officer, BBDO Bangkok). And while we were challenged when it came to selecting a Grande or Gold in Audio Lotus, there were plenty of ideas across the categories that made us feel inspired, envious and rather jealous. Congrats to all the winners."
Akae Wang, Executive Creative Director, Tencent, Shenzhen – Branded Entertainment Lotus & Effective Lotus
"ADFEST is a strict award system, so it's not easy to win, but it's good to see that the judges are still open-minded in their assessment of others' views. You will find that more sincere and transparent work will often win more applause.
"We've been in the digital environment for a long time, but I wonder if agencies really understand the communication walls of their clients' digital ecosystems. Much of the problem lies in the fact that creatives still don't have a deep understanding of the parameters of digital media platforms. That's why I still see a lot of work that may not really work on the ground.
"Another interesting discovery I made at ADFEST is that you can easily tell the work that is from Thailand, Japan, India, Korea, China and even Taiwan. The culture and language of each region are so clear and yet not difficult to understand. This is a very Asian phenomenon, and a unique feature of the Asian advertising environment."
Seung Eun Jang, CEO & CCO at Overman Inc., Seoul – eCommerce Lotus, Media Lotus and PR Lotus jury
"It was the first time being a juror for ADFEST, and I found I was connected more emotionally with Asian campaigns. Many great ideas were better than expected, and the execution and production quality were also exceptionally high. I was also motivated a lot as a creative. It aroused me to work harder."
James Burchill, Creative Founder, Rumble/Rumbletown Group, Brisbane – Branded Entertainment Lotus & Effective Lotus
"Asia leads the way in 'unpredictability'. There's always the surprising work, and the curious work. Even non-sensical work. But it is that special blend of creativity which is unique in the world, and which means we needn't feel we should be looking anywhere else for what great work looks like.
"Judging ADFEST 2020 was a marathon, with so much work too good to not watch all the way through. But the calibre of the jury made it a pleasure, and I felt I came away from the experience a better creative. Actually, in my jury, we all felt that way."
Baris Gencel, Creative Director, Brand Consultant, Creative Digital & Technology, Shanghai – Branded Entertainment Lotus & Effective Lotus
"It was one of the most challenging and enjoyable judging experiences for me as there were quite a number of really good works. I think there could have been more than one Grande Lotus per category but we had to made the call for only one.
"I also enjoyed the other jury members, and Ted Lim was a great Jury President. He simply asked us to focus on a few things: Was it a unique idea? Was the work different? Did it make a difference? Did it move people? Did it move business? We had the pleasure of seeing quality works, and the judging process and the jury members were so much fun to be with."
For the full list of ADFEST 2020 winners, visit www.ADFEST.com