NEWS
WINNERS : A SHOWCASE OF ADFEST 2020 INNOVA LOTUS WINNERS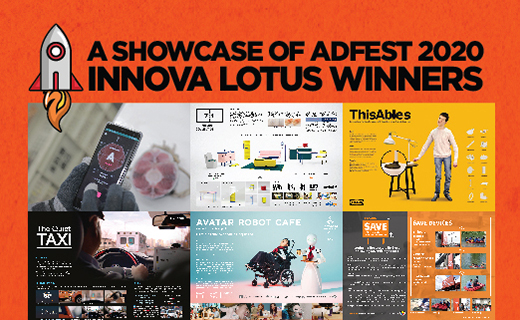 The INNOVA Lotus category rewards genuine innovation, talk-value and results. Here is a showcase of 2020 INNOVA Lotus winners.
Only one Grande INNOVA Lotus winner is awarded each year at ADFEST, and in 2020, this prestigious trophy goes to Dentsu Inc., Tokyo for 'Tuna Scope' for Sojitz Corporation. 'Tuna Scope' is a new technology that uses artificial intelligence to master the skill of assessing the quality of tuna. It takes a human expert 10 years to master this skill, yet Tuna Scope mastered it in one month.
Judy John, Global Chief Creative Officer at Edelman Toronto and ADFEST 2020's Grand Jury President, said: "INNOVA Lotus is the most exciting category at ADFEST because this is where we see creativity shaping the future.. The Grande winner, 'Tuna Scope', is an innovation so good that it won across multiple categories. This idea democratizes knowledge, and the jury felt it could be applied to solve many different problems in many different businesses."
There are also 6 INNOVA Lotus winners:
· Dentsu Inc., Tokyo : 'Tuna Scope' for Sojitz Corporation
· BBDO Bangkok, Bangkok: Homepro, '7:1 Furniture Collection'
· McCann Worldgroup, Tel Aviv: IKEA, 'ThisAbles'
· Innocean Worldwide, Seoul : Hyundai Motor Group, 'The Quiet Taxi'
· ADK Creative One Inc., Tokyo: Ory Laboratory, 'Avatar Robot Café'
· Havas Ortega, Manila: City of Valenzuela, 'Project Save'.
To see all INNOVA winners click here
Ted Lim, an Independent Creative Consultant based in Singapore and Malaysia, said: "My favorite INNOVA Lotus winner was IKEA 'ThisAbles'. The idea was brilliantly simple and has the market potential to benefit many people. I call this 'useful creativity'. Innovation is not the monopoly of developed nations. Creative thinking and innovation can come from anywhere. The challenge is to recognise a great idea when we see one and get it to market first."
Mark Braddock, Co-Founder and Creative Director at Block Branding in Perth, Australia adds: "'ThisAbles' was impressive for its scope. There are a lot of 'creativity for good' projects about at the moment and most feel, at best, a little scammy – just enough has been done to make them eligible for award shows – and at worst, outright exploitative. Whereas this was executed on an IKEA-scale. The solutions were simple yet effective and the overall approach sat nicely with the whole Scandi nature of the IKEA brand. The whole thing reinforced the IKEA brand without ever feeling tokenistic."
For the full list of ADFEST 2020 winners, visit www.ADFEST.com