NEWS
WINNERS : DOES ASIA LEAD THE WAY IN DESIGN, PRINT & OUTDOOR CRAFT?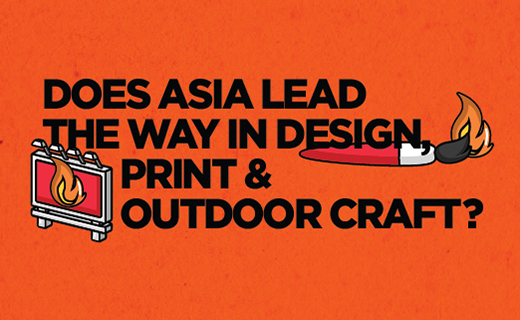 Let's take a deep dive into the ADFEST 2020 Design Lotus, Print and Outdoor Lotus winners.
We asked Mark Braddock, Co-Founder and Creative Director at Block Branding in Perth, for the lowdown on the Design Lotus, Print & Outdoor Craft Lotus winners at ADFEST 2020. Braddock was one of nine jurors overseeing these categories, led by Jury President Masaya Asai, Global Creative Director, TBWA\HAKUHODO in Tokyo.
Dentsu Creative X Inc., Tokyo won the Design Grande trophy for Mori Building's brand movie 'Designing Tokyo'? It's unusual to see a film win in the Design category: what made this a worthy winner?
"For me, it was one of those pieces you knew from the first viewing that you were going to see it on so many moodboards and referenced in so many treatments for years to come. The detail is stunning and seamless. It is long, but you are never bored with it. And it is so rare to experience a piece of motion graphics that you are happy to re-watch – there's so much to discover in it. Just beautiful."

Did you notice any interesting, emerging or worrying trends in the Design Lotus category? What would you have liked to see more of?
"There were a whole lot fewer of the crazy detailed illustrations to make up a bigger illustration than there would have been a handful of years ago. That trend had infected Asian poster design for years, but it looks like someone may have found a vaccine – not eradicated, but under control.
However, it may have been replaced with a trend towards anatomically-correct, hyper-realistic renders of fantastical creatures or creatures engaged in fantastical pursuits. Hair and skin texture generation technology has obviously reached new heights and that is being fully exploited by art directors and retouchers. I blame the Clemenger BBDO 'Meet Graham' campaign that won everything a few years ago.
And then there's the whole 'design for good/purpose' thing. A lot of creative 'solutions' search desperately for a problem to attach themselves to. It was hard not to feel cynical in judging these at an ad show.
I love to see how the Japanese agencies really embrace design as a discipline not only as an add-on to an ad campaign. I would love to see more of this. I know it is hard to get breadth in the Design Lotus category in an advertising award show, but it would be great."

In the Print & Outdoor Craft Lotus category, Cheil Hong Kong's Chupa Chups 'A Sweet Escape' campaign won the Grande Lotus and two Golds. What did you admire most about this campaign?
"It's a classic poster campaign that, thank God, didn't come with a case study video! The craft is in keeping with the concept. It's one of those campaigns where it is hard to imagine how it could have been executed better. After viewing a lot of self-important, self-righteous work, it was great to see a lollypop brand happy to be a lollypop brand and not trying to solve the world's problems. I appreciated the honesty of that."

This is your second time judging ADFEST, and the first time the judging took place virtually. What were your impressions?
"Judging ADFEST 2020 was a great experience. The system worked so well to allow for the discussions (in my opinion the most important part of any judging) in difficult circumstances. The system was flawless, allowing us to debate rather than having to worry about tech issues."
Mark Braddock is Co-Founder and Creative Director at Block Branding, Australia. www.blockbranding.com