NEWS
WINNERS : WHAT ARE THE REGION'S TOP eCOMMERCE, MEDIA & PR CAMPAIGNS?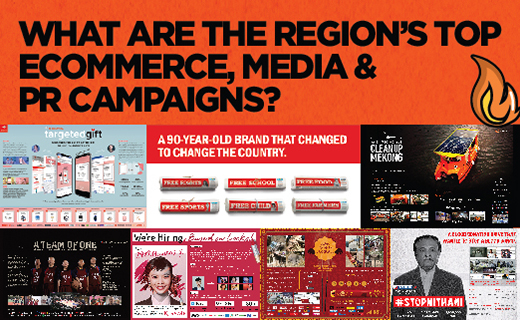 Now let's take a deep dive into the ADFEST 2020 eCommerce Lotus, Media Lotus and PR Lotus winners.
In the eCommerce Lotus category, BBDO Bangkok, Thailand won Gold for the JD Central Valentine's Day Campaign, 'Targeted Gift'.
"The idea is brilliant: using your partner's past browsing history on JD to find the perfect gift for her/him," says Cyril Drouin, Chief eCommerce Officer China & North Asia of Publicis & Co-CEO of Performics China, Shanghai.
"Overall, I think Asia does lead the way in terms of eCommerce but is definitely behind in terms of creative. The maturity is not here yet. Budgets might be an issue as well.. So much is happening in eCommerce these days around AI powered campaigns, co-op eCommerce campaigns, inclusive design, etc. I hope to see more innovation next year."
Judy John, ADFEST 2020's Grand Jury President and Global Chief Creative Officer at Edelman Toronto, also led these categories as Jury President. She believes the eCommerce Lotus category is "a great playground for creativity and innovation". In the Media Lotus category, "the medium is often the message. This year, the jury gravitated towards work that pushed how we use media in more creative and surprising ways."
Four Gold trophies were awarded in the Media Lotus category:
· Taproot Dentsu, Mumbai : Free Press Journal's 'Free Initiatives'
· Innocean Worldwide, Seoul : Hanwha's 'Solar Boat: Clean up Mekong'
· Loong, Beijing : Tencent Foundation's China Organ Donation's 'A Team of One'
· Accenture Interactive China, Shanghai : KFC, 'Pocket Franchise'.
"Taproot Dentsu's 'Free Initiatives' was my favourite because it's really a bold idea and a really brave idea for a newspaper to change their header," explains Drouin.
In the PR Lotus category, there were four Golds awarded:
· Dentsu Inc., Tokyo : Kissme, 'We're hiring… based on looks!'
· TBWA\Sri Lanka, Colombo : Aura's 'Aura Incense Barricade'
· Loong, Beijing : Tencent Foundation's China Organ Donation, 'A Team of One'
· Leo Burnett, Mumbai : HDFC Bank, '#StopMithani'.
To see all Gold winners click here
Seung Eun Jang, CEO & CCO at Overman Inc. in Seoul, Korea, says: "'A Team of One' is my favorite. The campaign delivered the value of organ donation in a way that had never been thought of: the story of people who received donations gathered as a team to fulfil the long-term recipient's unfulfilled dream. It was unforgettable. They asked professional teams to play through social media, making this campaign even bigger and stronger through public participation. I was green with envy when I met this campaign."
John adds: "Earning attention and finding your way into the press or into people's lives is not easy – especially when there's more content in more places that people can engage with, or choose not to. This year's PR Lotus winners found different strategies and creative ways to get people's attention and get them to care."
​ For the full list of ADFEST 2020 winners, visit www.ADFEST.com