NEWS
WINNERS : A GALLERY OF 2019 LOTUS ROOTS WINNERS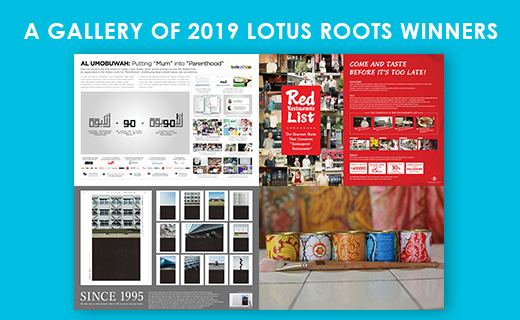 Lotus Roots is an important award that's unique to ADFEST. So, we've compiled a gallery of this year's winners to celebrate the region's most culturally insightful work.
Lotus Roots celebrates work that draws on the different histories and cultures of the countries and people of Asia Pacific and MENA regions.
At the ADFEST 2019 Lotus Awards, from 146 entries, there were just six Lotus Roots winners and one Grande Lotus Roots winner. If you'd like to enter the Lotus Roots category at ADFEST 2020, the deadline closes in December!
2019 GRANDE LOTUS ROOTS WINNER – FP7 McCann Dubai for Babyshop 'Al Umobuwah: Putting 'Mum' into 'Parenthood'
FP7 McCann Dubai created a new Arabic word for its client Babyshop, giving mothers across the Middle East an equal place in the Arabic word for "Parenthood", challenging deep-rooted biases and conventions in the process.
"This brave new word champions Mums, and has woven itself into the vernacular, and is on the verge of being included in the Arabic dictionary," explained Mark Tutssel, Grand Jury President at ADFEST 2019 and former Global Chief Creative Officer at Leo Burnett Worldwide, Chicago.
LOTUS ROOTS WINNER – Colenso BBDO, Auckland for Spark New Zealand 'Kupu'
Languages die out every day, so Colenso BBDO worked with Spark to revitalize the te reo Māori language in New Zealand through an app called Kupu.
Using machine learning, Kupu translates objects in the world around you into te reo Māori in real-time. It combines Google Cloud Vision with Translate APIs, supported by knowledge from Te Aka Māori Dictionary. You'll find the case study on Colenso BBDO's website.
LOTUS ROOTS WINNER – Hakuhodo Kettle Inc., Tokyo for Takasaki City 'Red Restaurants List'
To conserve endangered restaurants in Takasaki City run by elderly chefs, Hakuhodo Kettle Inc. created a gourmet guide called 'Red Restaurants List'. To make the list, the restaurant owner must be old with no successor in sight. The restaurant itself must be worn out, and serving food that's too delicious to let fade away.
The guide has received attention across the country, and is even spreading to other parts of Japan to preserve the country's most endangered – yet delicious – restaurants.
LOTUS ROOTS WINNER – Dentsu Inc., Tokyo for Kobe Newspaper 'Since 1995'
Dentsu Inc. helped Kobe Newspaper to prepare residents for an earthquake with a beautifully designed two-page spread showing what to pack in case of emergency. It's a brilliant conversation starter for families, too.
LOTUS ROOTS WINNER – Leo Burnett Colombo / Leo Burnett Toronto for JAT Paints 'Petal Paint'
This campaign pays homage to Sri Lanka's rich heritage of temple art by extracting pigment from discarded temple flower offerings to create a range of safe, long-lasting paints. These paints were then used for the creation and restoration of temple art.
Aelian Gunawardene, Managing Director of JAT Holdings said, "Every aspect of this campaign has been inspired by our commitment to innovation and sustainability. We are thrilled to have partnered Leo Burnett Sri Lanka and Leo Burnett Toronto to win these accolades at the prestigious ADFEST platform."
LOTUS ROOTS WINNER – R/GA Tokyo / Shiseido Co. Ltd., Tokyo for Shiseido 'My Crayon Project'
To show kids in Japan there are many different shades of skin, R/GA Tokyo worked with Shiseido to create a set of crayons featuring each child's own skin colour. It's worth hunting down the case study on R/GA's website to watch how the kids respond when they receive their new crayons – adorable!
Rabbit Digital Group Company Limited, Bangkok for Siam Commercial Bank 'Mae-ma-nee Money Solution'
Siam Commercial Bank (SCB) launched the "Mae Manee Money Solution" campaign in November 2019 to raise awareness of its SCB EASY PAY QR Code. SCB worked with Rabbit to create the 'Mae Manee' character – a digital-generation 'nang kwak' or spirit, based on the belief that she has the power to beckon customers.
* Submit your work to the 2020 ADFEST Lotus Awards in the Lotus Roots category before Friday 13th December 2019 (remotely judged categories) or Friday 20th December 2019 (all other categories).