NEWS
FESTIVAL : ADFEST 2020 – 4 DEADLINES WORTH DIARIZING!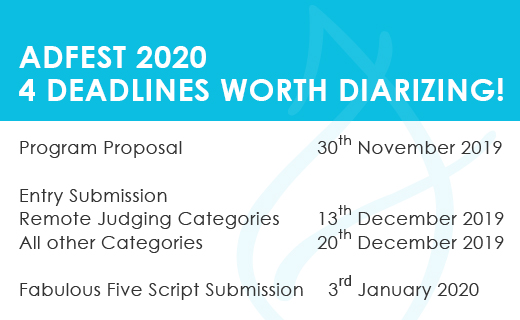 The deadline to enter the ADFEST 2020 Lotus Awards is already less than two months away! Here are some other deadlines to flag in your diary…
#1. SPEAKER PROPOSALS DEADLINE – 30th November 2019
If you'd like to share your knowledge of inspiring creativity, trends, and breakthroughs at ADFEST 2020, all Program Proposals must be submitted online by 30th November 2019.
"We're looking for transformative creative ideas, game-changing trends, fresh ways of thinking and predictions that will help creative professionals in the Asia Pacific and Middle East navigate the future," explains Jimmy Lam, President of ADFEST.
To submit your ideas, make sure you read through the Program Proposal Guide before submitting your proposal/s online here.
#2. ADFEST LOTUS AWARDS DEADLINE (remotely judged categories only): 13th December 2019
The deadline for categories that will be pre-judged remotely is Friday 13th December 2019.
These categories are: Audio Lotus, eCommerce Lotus, Effective Lotus, Film Lotus (Internet Film & Other Film only), INNOVA Lotus, Digital Craft Lotus, Digital Lotus (previously Interactive Lotus), and Mobile Lotus (including Lotus Roots in these Lotus Categories).
#3. ADFEST LOTUS AWARDS DEADLINE (all other categories): 20th December 2019
The deadline for all other categories is Friday 20th December 2019.
These categories are: Brand Experience Lotus (previously Brand Experience & Engagement Lotus), Branded Entertainment Lotus, Design Lotus, Direct Lotus, Film Craft Lotus, Film Lotus (excluding Internet Film & Other Film sub-categories); Lotus Roots, Media Lotus, New Director Lotus, Outdoor Lotus, Press Lotus and Print & Outdoor Craft Lotus (previously Print Craft Lotus).
#4. FABULOUS FIVE SCRIPT SUBMISSIONS DEADLINE: 3rd January 2020
ADFEST is now recruiting young or emerging directors for its Fabulous Five 2020 program. To enter, simply write a short film script (max. 5 minutes in length) inspired by the theme of ADFEST 2020, 'Fired Up!', which is all about the creative energy that fires you up and fuels you to change things for the better.


If your script is one of the top five scripts as voted by ADFEST's Film Craft Lotus & New Director Lotus jury, you'll be invited to make your film to premiere at ADFEST 2020, which runs from 18th to 21st March 2020 in Pattaya, Thailand. ADFEST will provide return economy airfare, ground transportation, accommodation, and a full delegate registration to ADFEST 2020.
* For the latest news and announcements, visit ADFEST.com or follow the festival's official social channels on Facebook, Twitter, LinkedIn and Instagram.