NEWS
YOUNG LOTUS : MEET JAKARTA'S BEATA AYU PRIMANA & CINDY RAISSA WIYANA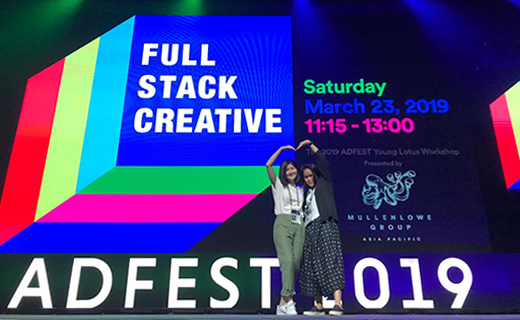 Beata Ayu Primana and Cindy Raissa Wiyana were one of 18 teams who took part in the Young Lotus Workshop at ADFEST 2019, hosted by MullenLowe Group.
The Young Lotus Workshop is one of the industry's longest-running mentoring programs designed to give the next generation of advertising leaders hands-on, practical experience. Beata and Cindy are both based in Jakarta, Indonesia.
How does living in Jakarta inspire you?
The creative scene is definitely flourishing. There's a public entertainment space that just recently opened close to our offices called M Bloc, a creative hub for budding creatives and musicians. Jakarta is a mix of everything, really. You're constantly inspired by people from all walks of life: one moment you find yourself being immersed in an art exhibition, or a weekend market, then you can find yourself in a wet market or a flea market, or maybe you're eating out in food stalls with lesehan-style, where you're communally eating dinner with strangers in an outdoor setting. It's constantly people-watching and hanging out that makes the city interesting and always inspiring.
Do you have any advice for junior creatives – is there a secret to succeeding/surviving in ad land?
We're pretty junior ourselves, ha ha. We've only been in the industry for about two years now and we're constantly learning, too. One of the most important things is to always be a sponge, as cliché as that sounds. Don't get too caught up trying to learn the skills of advertising because advertising is really about the world and what's around us.
It's important to have a mentor but it's just as important to be open-minded to learn about people, culture, different worldviews. Be interested in something, who knows, those skills or interests can be useful for your day-to-day.
You took part in the Young Lotus competition at ADFEST 2019. Can you tell us about your experience?
The best part was learning from the workshops and getting to meet very talented people. The talks were very insightful and getting to listen and learn from creatives of all fields really opened our perspective about the industry. Our roles as an art director and copywriter are only a small yet an integral part of the creative ecosystem.
You were given a real-world brief from Google. What was your idea?
Our idea was entitled "The Voice of Home" where we changed the voice of Google Home, personalized with the voices most familiar and closest to the users. For instance, someone living abroad will have their parents' voice as the voice of Google Home.
Any favourite memories of Thailand?
The food and getting around! We stayed in Bangkok for two nights prior to ADFEST in Pattaya, so we had a little bit more time to get around and see the city. Other than that, just hanging out with everyone from Young Lotus and going to the night markets, seeing temples, and of course, eating!
You were working at TCP\TBWA and MullenLowe when you took part in the Young Lotus program. Have you been working on any interesting projects lately?
We both recently moved to another agency not long after ADFEST but we both are doing really great in our respective agencies! We're working on both regional and local projects, we're also working on initiative projects.
Would you recommend the Young Lotus program to other creatives?
Yes, if you have the chance to become a part of Young Lotus, you're very lucky. It's a great experience to open up your network about advertising outside of your market. We're both very privileged to become members of Young Lotus ADFEST 2019 and we've definitely learned a lot while we're there.
* Young Lotus is open to advertising professionals aged 30 and under. To enquire about joining the Young Lotus 2020 program, contact YoungLotus@ADFEST.com