NEWS
JURIES : SO… WHAT'S IT LIKE TO JUDGE THE ADFEST LOTUS AWARDS?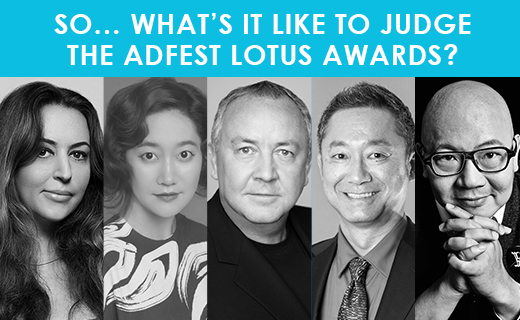 If you're interested in judging the ADFEST Lotus Awards one day, you might be curious to hear what our 2019 judges had to say about their experiences inside the jury rooms…
Ali Brown, Partner and Executive Producer at Prettybird in Los Angeles; Jury President of Film Craft Lotus and New Director Lotus
"The actual judging process was an incredible experience. Our jury not only represented 7 different countries and cultural viewpoints, but consisted of directors, producers, an editor, music specialist, animation director, and company owners. There were truly diverse perspectives on work. But what's incredible was to see how aligned we all were – proving that great work is great work. You may like it for different reasons or appreciate different things about it, but taste is universal. Quality is universal. Craftsmanship is universal. And seeing that in action was beyond inspiring.
"The support and kindness of those working with the festival and volunteering to run the judging rooms is unparalleled. The experience has been memorable not only for what the festival stands for, but who stands with it."
Kate Hyewon Oh, Chief Creative Officer and Executive Creative Director, Cheil Worldwide in Seoul; Jury President of Brand Experience & Engagement Lotus and Direct Lotus
"The quality of the overall level of entries was very high. We used to laugh or cry in the middle of the judging. It means there's a lot of empathy driving the ideas we judged, and we saw a lot of work that actually drives the market. Some very clever ideas have shown us how to see market conditions and create a lot of repercussions at a fraction of the cost. It was a great experience to meet those pieces. We really enjoyed the judging!"
Mark Tutssel, Grand Jury President and Jury President of Branded Entertainment Lotus, Effective Lotus & Integrated Lotus
"I saw a lot of really inventive, imaginative, progressive work, particularly in Branded Entertainment – ideas that truly wove themselves into popular culture in an interesting way. Craft here is always of the highest order. I always expect immaculate craft. But this year there was some really beautifully done and beautifully observed work. Work that also captured the rich flavour of the region.
"I always look at this region as a melting pot of various talents and multiple approaches to modern day communication – and the character, wit, humour and personality of each of the countries really had a presence at ADFEST 2019. We saw some great work and had some great debate."
Mitsuyaki Nakamura, Global President of dentsu X in London; Jury President of eCommerce Lotus & Media Lotus
"It was an honour to judge the new eCommerce category, especially with the eCommerce boom in this region. The judges were delighted to see works where eCommerce isn't just playing a supporting role, but sits at the heart of the consumer experience. Ideas that found insightful ways to put consumers at the centre of the creative solution and the user experience shined in this category. The diversity and complexity of Media entries also made this an exciting yet challenging category to judge."
Yang Yeo, APAC Creative Kaiju at Hakuhodo Inc.; Jury President of Outdoor Lotus and Press Lotus
"How would I describe the experience of judging ADFEST 2019? There was a good cultural, gender, and experience mix, and the judging was conducted professionally, passionately, fairly."
* Entries to the ADFEST 2020 Lotus Awards close on 13th and 20th December. Enter via www.ADFEST.com