NEWS
ENTRIES : CREATIVE SHOWCASE: 5 FABULOUS FILMS BY 5 FABULOUS DIRECTORS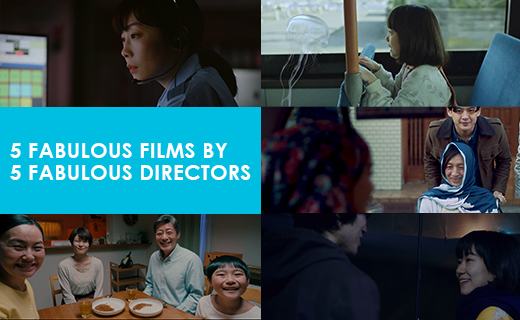 Loneliness, loss, love, murder and suicide – these are just a few of the themes explored by our talented Fabulous Five directors of 2019. You can now enjoy a showcase of their films on ADFEST's official YouTube channel.
Let's rewind to 2018, when emerging Directors and Assistant Directors were invited to write a five-minute film script inspired by the theme of ADFEST 2019, 'TMRRW.TDAY'. Five directors were then invited to direct their films in time to premiere at ADFEST 2019 last March.
Mai Murata, Assistant Director from Dentsu Creative X Inc., Tokyo, was awarded a Commendation for her short film, "My Jellyfish". It's a quiet, sad yet beautiful film about an adorable young girl with an imaginary friend, Mr Jellyfish.
Ali Brown, Partner and Executive Producer at Prettybird, Los Angeles was Jury President of Film Craft and New Director Jury President at ADFEST 2019. She said: "Ultimately one film rose to the top for its excellence across so many facets of production. For an emerging filmmaker it was a great testament that you cannot solely have a cool concept or a great actor, but need to make sure that every element of your filmmaking is strong."
She was also impressed with the four films directed by the remaining Fabulous Five: "We were blown away by the quality of their films. We ended up with films that for the majority far exceeded our expectation of what would be delivered and that was a really inspiring surprise.
"I'm personally very passionate about supporting emerging directors and I could see that these Fabulous Five not only were all truly gifted, but had incredible support systems in place that really helped them bring their vision to life at the highest level. That fusion of great young talent with strong production support is really what's needed to bring forth the best next generation of filmmakers and it's quite rare to have that combination," said Brown.
'Midnight' was directed by Jo Motoyo, Director from Tokyo/Taiyo Kikaku Co., Ltd., Tokyo. It's a powerful film showing the conversation between a 911 phone operator and a girl attempting suicide, with an ambiguous ending.
'Pray' was directed by Naoto Mitake, Director from AOI Pro. Inc., Tokyo & Directors Think Tank, Kuala Lumpur. This film explores the relationship between a boy, his parents, and his Muslim girlfriend – and how they come to terms with each other. It ends with a beautiful quote: "It's never miles away if you make it a smile away".
'Return' by Tomu Yamaguchi, Director from AOI Pro. Inc., Tokyo, is about how far you would go to have a family – even if that family was fake. It's such an intriguing interpretation of the theme, 'TMRRW.TDAY', exquisitely filmed.
"Riverside Heights" by Rin Soejima, Director from AOI Pro. Inc., Tokyo is an enthralling story about a young couple. She wants to go somewhere, he wants to stay – and the reason isn't revealed right until the very end.
* To enter the Fabulous Four 2020 short film program, simply write a short film script inspired by the theme of ADFEST 2019, 'Fired Up!' Scripts must be submitted online here by 3rd January 2020.