NEWS
Q&A : GUAN HIN TAY: "CREATIVITY CAN BE TAUGHT – I AM A PRODUCT OF IT"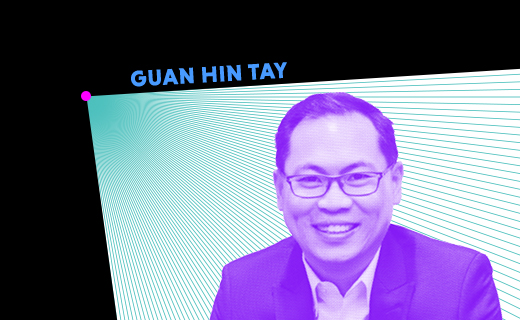 We are delighted to confirm that Guan Hin Tay is leading ADFEST's TMRWW Biz School as its inaugural Principal.
Tay's credentials as Principal are exceptional. He has more than 25 years of experience developing creative business solutions for global brands like Shell, Johnson & Johnson, Unilever and Nestle. And in March, he will share his expertise with up to 50 participants at TMRRW Biz School.
If you're interested in learning to apply the essential tools, techniques, and processes of innovation and you work client-side, then make sure you register to attend ADFEST's TMRRW Biz School here. Tay is Founder of TGH COLLECTIVE and a Creative Change Catalyst at APAC Global Advisory.
Why did you agree to help launch the TMRRW Biz School for marketers as its inaugural school principal?
Jimmy Lam and I are passionate about grooming the next generation of creative talent. ADFEST has always played an essential role in educating creative minds in the Asia Pacific. Over the years, I had the privilege of hosting a few of the ADFEST Young Lotus workshops, which proved to be immensely inspiring and enriching both for the young creatives and the industry teachers.
For the first time, ADFEST will dedicate a unique school to educating clients: clients who have the passion for upgrading their skillsets, while learning all about the future of branding in this data-driven world. It's a school that combines the best of creativity, data and technology, and business.
Jimmy always says: "Good clients make great agencies." I am certain marketers who enter this school will leave more inspired to make a massive difference to their brands by collaborating with their agencies as equal partners.
Do you think there is a gap in the market for a creative-focussed business leadership course for marketers?
Many education programs teach you just about digital technology using data. Other schools are better at creative brand ideas, while many teach creative leadership. But no school combines it all. For this reason, ADFEST is launching a creative business school that's designed to educate and inspire marketers to think creatively. The idea is to go beyond theory by bringing together a collective group of award-winning industry leaders.
Everything designed for this school is to inspire the next generation of marketers to solve business challenges for their brands and organization by being as innovative as possible.
Is creative thinking a skill that can be taught and harnessed?
I was born into a family of doctors. My parent's pressure to follow their footsteps was impossible. My brain wasn't wired to focus and study in the conventional educational system, so I failed miserably. Fortunately, I loved to draw and grew a passion for the arts.
Was I stupid just because I couldn't study? Can creative intelligence be taught?
In 1968, George Land conducted a research study to test the creativity of 1,600 children. He first tested on 3-5 year-olds, then re-tested the same children at 10 years of age, and again at 15 years of age. The results were amazing. The test showed that amongst 5-year-olds they were 98% creative. This dropped to 30% amongst 10-year-olds and 12% amongst 15-year-olds. When the same test is given to 280,000 adults the rate is just 2%.
This clearly shows that we are all born creative, but after years of rules and regulations, our education system trains us to follow the rules and try and push us inside a box instead of freeing our imagination.
I believe creativity can be taught. I am a product of it. We can't study to be creative, we learn creativity through actions and changing ourselves through immersive experiences. All it takes to spark passion is a creative change from within. To take a risk and not be afraid to fail. By surrounding yourself with inspiring creative people who dared to dream big. I believe creativity for those who want it badly can be achieved.
There's lots of debate as to whether creative jobs will be taken over by big data. Why do you think creativity remains an essential skill for marketers of the future?
John Hegarty says: "Human beings are not a collection of algorithms."
Yes, big data are essential. This includes all data points like Social Data. Digital Data. Media Data. Customer Data. Sales Data. These can all uncover unique insights about people and culture.
Great creativity comes from unique insights. Data can be a tool that steers us in the right direction toward inspiring ideas. But it's our creative passion that drives us to get to the big ideas.
Brands still need a big idea once the message is delivered to consumers. A big idea that's surprising, exciting and engaging. Having the right data is key to unlocking rich insights to unleash the power of creativity.
You recently left JWT to join the land of consultancies, APAC Global Advisory. Why did you take this leap, and how is it going so far?
It's been a refreshing change. I am one of six Creative Change Catalysts at APAC Global Advisory. I've always wanted to take this step to be able to experience another side of the business. The other five Change Catalysts are diverse industry leaders who bring almost one century of combined change experience, thought leadership, entrepreneurship and industry expertise in their respective fields led by Ms. Wong Mei Wai who's the founder.
I am learning from the lens of a consultant that today's leaders in organizations require innovation to stay ahead during this age of constant transformation. I am collaborating with CMOs who evolve business models of the future that unleash the full potential of their brands. Coming from a creative background, it's quite challenging but rewarding to initiate, facilitate, design and navigate change to accelerate the process in specific areas for my clients.
Working in network agencies has been fantastic, but I felt it's time to start something I can call my own: TGH Collective. By the way, TGH is not named after the initials of my name but a passion I'm trying to emulate when providing creative, digital and innovative solutions for clients — the Gung Ho spirit of passion.
What do you hope that marketers will learn or take away from TMRRW Biz School?
Participants will learn to apply the essential tools, techniques, and processes of innovation. They will be given tasks and challenges designed to accelerate their progress and maximize their knowledge. I hope this will help them to rise above the ranks and be future ready. Every marketer will leave the school with greater competency, practical techniques and tactics that they can apply soon after.