NEWS
YOUNG LOTUS : VINCENT DIGONNET, MULLENLOWE: "THE BEST LEARNING OCCURS THROUGH REAL-WORLD EXPERIENCES"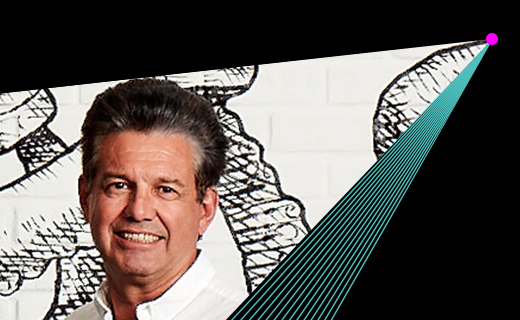 It's a humdinger of a task: next year's Young Lotus team will have just 24-hours to crack a real-world brief for Google – and the winning concept will go on to be implemented for real!
The next Young Lotus workshop takes place during ADFEST 2019 and will be hosted by MullenLowe for the first time ever. It will be an incredible opportunity to learn from MullenLowe's top creative leaders, including Vincent Digonnet, Young Lotus Chairman for 2019.
Digonnet stepped into the role as MullenLowe Group's Asia Pacific CEO just over one year ago. It's a huge role overseeing all markets in the Asia Pacific, so we took the opportunity to find out more about his vision for the network.
Why did MullenLowe agree to host the Young Lotus Workshop at ADFEST 2010?
The biggest challenge the advertising industry faces is that it simply isn't evolving fast enough. Especially here in Asia. The pace of change when it comes to consumers is incredibly rapid – we recognise this as a Group and have been on our own transformation journey. At the heart of our strategy is the need to continuously evolve our approaches in order to keep pace.
As a result, I've seen first-hand how challenging it can be to modify the behaviour and culture of an organisation. I believe the biggest change in our industry overall will come through this new generation of passionate, creative and adaptable digital natives.
A mentoring programme like ADFEST's Young Lotus then becomes critical. It helps nurture the industry leaders of the future and give them a solid grounding of the various approaches and strategies I believe are required to drive modern communications forward.
What do you hope young creatives will learn from the experience?
Our intention is to demonstrate to our young creatives that they need to be aware of and exposed to ideas and capabilities outside of their own core disciplines. "T-shaped" individuals are the future of organisations like ours, with a wider appreciation, understanding and skillset than the typical ad agency of today. That includes areas such as data science, experience design and technology – that when applied in the right way along with creativity, offers solutions where it matters most for our clients. Namely, delivering against business objectives. This is central to our approach at MullenLowe Group and is an appetite we look for in everyone who joins us.
Without giving too much away, I can also say that we believe the best learning occurs through real-world experiences. So we'll be working with Google to present the teams with a real-world client challenge. It will need to be solved using a breadth of different disciplines, with the winning concept going through to implementation.
Since you joined MullenLowe in 2017, you've redefined MullenLowe Profero's offering and restructured MullenLowe Group's offer in China, Japan and Greater Mekong. What's your "big picture" vision for MullenLowe APAC?
I believe Asia's time has come to lead the rest of the world in terms of business transformation. Asian markets are being driven by an increasingly tech-savvy, mobile-first population and will set the pace that our industry will need to evolve and adapt to.
Also, the models, tools and frameworks to date that are taken as best practice and conventional wisdom in Asia are actually devised in the US or Europe – from design principles, the way interfaces are modelled to the technology platforms themselves. And yet a market like China is in a constant state of invention, no longer imitation, meaning that a lot of these ways of thinking are outdated before they are even pressure tested.
The big picture for MullenLowe Group APAC therefore is to become the spearhead for our global organization, leading transformation of our skill sets as well as our organization in Asia for other markets to follow.
Your role covers everywhere from China to Hong Kong, Japan, Korea, Australia, Singapore, Indonesia, Malaysia, Thailand, Philippines, Vietnam. Which markets are strongest? Where will you focus your attention in 2019?
Hyperbundling for us at MullenLowe Group means the development of centres of excellence in order to drive specialised skillsets for each market, which will have an impact far beyond their own geography. With this structure, each market has a critically important role to play in the overall growth of our APAC operation. Different markets = different talents, diverse ways of thinking and new ways of doing.
Hyperbundling only works if each market is aligned to share their capabilities and skillsets with each other. So my focus in 2019 will be further building on the foundation of collaboration and knowledge sharing within the Group in order to help each market to grow and evolve, not just as an individual entity, but as a collective whole.
MullenLowe acquired salt in 2017. What are your plans for growing the network's PR capability?
Why I am excited about MullenLowe salt's contribution is that it brings far more than traditional public relations to MullenLowe Group's capabilities. Their heritage is in strategic communications, where they have specialized in working with purpose-driven brands such as Unilever. They have added content creation alongside PR and also have deep expertise in growing areas such as employee engagement and sustainability, which I believe are key elements when it comes to helping companies do more than just talk, but think and act differently. This is critical to building the brands of the future.
Consumers now expect brands to be sustainable in their business practices and accountable for their actions, and employees are attracted to and want to work for companies that embrace transparency in the way they do business. This sentiment shift is picking up significant momentum in Asia, which means the demand for purpose-driven communications is increasingly rapidly – this makes it a key opportunity for not just MullenLowe salt's growth over 2019 but for our wider group and our client's too.
You took a break from ad land to become a tech entrepreneur in China. What did you take away from this experience?
The most important lesson that I took from my experience in China is that technology changes all the time, and you can't hang your hat on one single piece of technology, or you'll simply die.
When I first began working in China, I remember being astounded by how advanced the Chinese technology ecosystem was becoming in terms of social commerce. I knew that one day they would be leading the world. So far, this has proven true, and we're seeing Chinese technology companies like Alibaba, WeChat and Baidu leaving Western companies scrambling to catch up.
You've described Asia as a "powerhouse of innovation", particularly China. In what ways is Asia ahead when it comes to innovative thinking?
It's a different way to think about innovation. In mature markets, innovation often seems to equate to shiny new toys without necessarily much purpose. What Tencent showed with WeChat, their 'super-app' is that you can provide an all-in-one solution that is an answer to everyday life – a life tool. Pragmatism and solving problems is at the heart of it all.
There is also no legacy technology-wise to deal with in Asia, and you have a fast growing and technology savvy middle class – with an innate agility and much faster technology adoption rate.
Conversely, the mature European and US markets already invested in CRM, logistics and other tech systems years ago. So although ahead of the curve back then, they're finding it much more challenging to evolve to meet the constantly-changing behaviours of today's consumers with so much infrastructure weighing them down.
Asia can leapfrog ahead, and that is exactly why Asia is so inspiring in my view. It's the fastest, most agile region in the world. So when you're in the business of digital transformation, it's the best place to be.
What's your proudest achievement, professional or otherwise?
In a time of constant change and disruption, I would say that my proudest achievement is to be still married to the same person after 40 years, and to have raised three children with her who are happy in their lives and in their careers, are fit for a world which is fast becoming a global village, speak more than three languages, live all over the world, and now have multi-cultural families of their own – making family reunions feel like a mini-United Nations.