NEWS
Q&A : WE ASKED NEW DIRECTORS WHAT IT'S LIKE TO BE A "FABULOUS FOUR". HERE'S WHAT THEY SAID.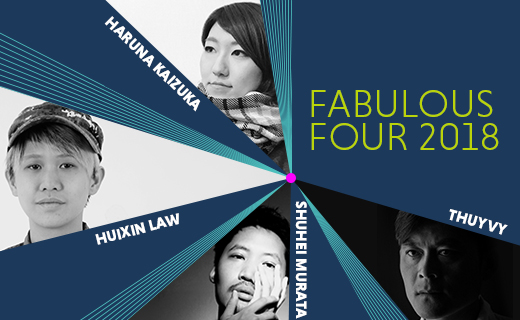 Earlier this year, our Fabulous Four of 2018 did an incredible job, presenting some of the finest films we've seen yet. On Friday 23rd March at the ADFEST 2018 Awards, Huixin Law from Reservoir World Sdn Bhd, Kuala Lumpur was awarded a Commendation for directing a short film called, "Bird on a Wire".
The other Fabulous Four directors were Shuhei Yumata from Pyramid Film Quadra Inc. Tokyo, Thuy Vy from The Directors Group, Melbourne and Haruna Kaizuka from AOI Pro. Inc. Tokyo.
Reporter Kyle Towb caught up with the Fabulous Four 2018 to find out more about their storytelling process. If you'd like to be a 'Fabulous Five' New Director next year, make sure you submit your short film script before 4th January 2019. For more details on the Fabulous Five, click here.

How does it feel to be selected as a Fabulous Four director?
Shuhei: "When I received the email I couldn't believe it. There are many brilliant Japanese directors from past Fabulous Four programs. Previous Fab 4 directors told me it was a great opportunity to appear on Japanese media and worldwide media."

Haruna: "I'm really happy to have been selected for Fab 4. I've written a lot of scripts for this and it would have been very disappointing to not have been chosen."

Thuy: "When I got the email I said, "Wow". But I didn't realize the scale of this competition and how big it is. I had second thoughts because it was self-funded and I knew it would take a lot of time and effort, but then there was some publicity and I had people calling me from all over. This made me realize I had to go through with it and represent Australia, as well as Melbourne. The experience at ADFEST has been wonderful. I've met a lot of industry people and the talks have been very insightful."

Huixin: "I felt really honored and excited at the same time. When I received the email my heart was racing. The experience is really valuable, it helped me to understand better how to reach out to people and create resonance behind my ideas."

How would you like to transform filmmaking in the future?
Shuhei: "Most Japanese TV commercials have no story or historical context, so I want to bring stories and historical meaning to commercial films in the future. I believe commercial films should be more like feature films and art films in the entertainment industry."

Huixin: "Being a filmmaker, we are responsible for good content and sending a good message is always my goal as a filmmaker. By putting this film out into the industry I hope that I can help to promote a positive message through the work that I do."

Haruna: "I want to make films that open people's values and allow for a broader perspective. In Japan, we primarily air commercials to sell products so I'd like to see emotional connections and storylines become prevalent in these types of films."

Before you decided on your final vision for the theme "Transform," what other ideas did you consider?
Shuhei: "The first time I heard the theme I immediately had an idea. Although I had a lot of alternate concepts, it was clear to me that my first vision for the film should be the one I choose."

Haruna: "My final idea was about wrinkles on people's faces, but I had another idea of a guy who worked in a room where he pressed one button every day. At first he was quite fearful but as time progressed he became more comfortable with the job. I was not able to really connect this idea with the theme, however, so I went with my initial vision for the film."

Huixin: "When I saw the theme 'Transform', I knew exactly what I needed to do, but I did come up with a second idea, which reflected on power and greed. I wanted to use a bunch of animals and the story would run along the lines of one animal becoming extremely powerful because he knew how to use the phone. At the end of the day, I stuck with 'Bird on a Wire' because it was the closest to my heart and I felt it had a stronger message."

Thuy: "I wanted to think of something really cool that stuck within the time limits. I was initially thinking of a human that transforms into a machine, which related to my favorite cartoon growing up, but I realized this would be too difficult to achieve. Ultimately the final decision was to go with what I knew best, photography, which came very easily to me due my intimate understanding and experience of the medium."

With a 5-minute time limitation, how did you decide which content makes the final cut?
Shuhei: "Actually, it was the most difficult part of the production. I just picked the most visual and emotional scenes. It was not easy, but choosing those scenes helped me assemble the film as a whole."

Haruna: "My film was to be very subtle. So I simply picked the most subtle scenes showing changes in the characters and their emotions. This made the process, while still challenging, a bit easier to achieve."


Thuy: "Shooting a five-minute film was hard because there were a lot of shots that I wanted to show in one take. In the end, we shot full coverage so we would have more options to select the final shots and present the best performance. There were two shots in the end, which I would have liked to be longer, but I had to trim them to fit the time constraints. In the end it improved the story and helped the flow – we realized this later in the production process."

Huixin: "I wrote the script, directed and edited the film myself. This made me very biased. I became very greedy and wanted to keep as much as possible, but the trick was to study the character. I had to determine the scenes which would serve the story best, in relation to her character, and those were the ones which would remain."
- Story by Kyle Towb
- ADFEST is now inviting directors based in the Asia Pacific and Middle East to write 5-minute film scripts inspired by the theme of ADFEST 2019, "TMRRW.TDAY". To be eligible, directors must have less than two years' experience. The deadline for script submissions is Friday 4th January.