THE ONE CLUB FOR CREATIVITY - MORE THAN JUST AN AWARD SHOW
Pat Baron
Join me in supporting and celebrating the success of the global creative community and how you can make a difference. As creative thinkers, marketers, innovators and problem solvers we spend our time and energy helping creativity play a meaningful role in culture and people's lives. Join The One Club and its mission to make a difference in our industry, be it Inclusion & Diversity, Education, Professional Development or Gender Equality.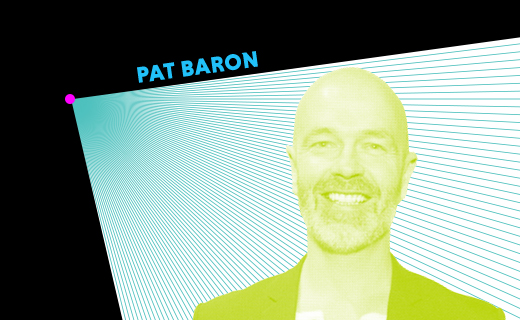 Pat Baron
International Board Member, The One Club for Creativity
CCO, McCann Australia
Melbourne, Sydney & Queensland
Patrick is currently the Chief Creative Officer, CCO, of McCann Australia, encompassing Sydney, Melbourne and Brisbane. Patrick is also APAC Chairman of the McCann Creative Leadership Council.
During his time at McCann, Melbourne has been ranked by the 'Gunn Report' as the No.1 creative agency in the world and 'Agency of the Year' by Campaign Brief. The Advertising Age USA ranked Patrick as the world's No.1 creative director and art director and the 'Directory Big Won' rankings as No.1 art director and No.4 copywriter. In 2014, McCann Melbourne became the 3rd most effective agency in Australia and Pat was named 'Creative of the Year Australia & New Zealand' by Campaign Asia Pacific. In 2015 Pat was also the first ever winner of the 'Creative of the Year' at the Australian Creative & Effectiveness Awards. He is also the only Australian creative director and art director to have had work awarded by TED and housed in London's Design Museum.
Patrick's Cannes-winning campaigns include 'Dumb Ways to Die' for Metro Trains (the most awarded campaign in the history of Cannes and D&AD); V/Line's 'Guilt Trips' (winner of the prestigious Cannes Grand Prix for creative effectiveness); 'Made Possible by Melbourne' for Melbourne University; 'The Emotional Trailer' for the Melbourne International Film Festival (MIFF); Tigerair's 'Infrequent Flyers Club'; 'Phubbing' for Macquarie Dictionary and; 'The Impossible Orchestra' for the Australian Government. Patrick's work has been recognised with over 400 international awards, including 50 Cannes Lions (6 Cannes Grand Prix's and 19 Cannes Gold Lions). His recognitions also include 'One Show – Best of Show' and 6 Gold One Show Pencils; 16 D&AD's a 'Best Agency D&AD Pencil'; the prestigious Black D&AD Pencil and 6 Yellow D&AD Pencils and; APAC EFFIE. These awards highlight excellence, across Film, Integrated, Effectiveness, Direct, PR, Mobile, Outdoor, Print, Media, Cyber, Viral, Radio and Digital categories.
Patrick actively supports the industry on award juries for Cannes, One Show, EFFIE's, New York Festivals, Spikes, ADFEST, AWARD and Sirens. He is also an AWARD School judge and Australian Creative & Effectiveness Awards ADMA AC&E jury president. Patrick writes opinion articles in the media and also presents at creative workshops, seminars and media events.