NEWS
Q&A : YOUNG LOTUS 2019 : MEET LUCY LOGAN, LEO BURNETT MELBOURNE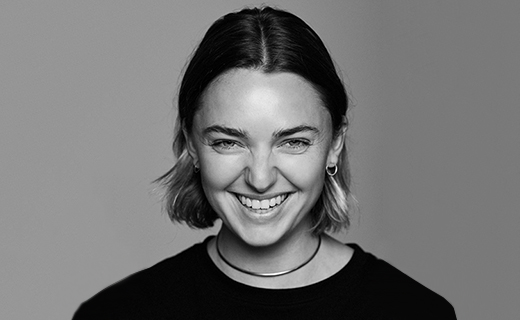 At ADFEST 2019, Art Director Lucy Logan and Copywriter Holly Burgess paired up to compete in the Young Lotus program for creatives aged under 30 – and won. Six months on, Lucy remains at Leo Burnett Melbourne as an Art Director, while Holly is freelancing in Amsterdam.
We caught up with Lucy to find out more about their win…
You won the Young Lotus competition this year along with Holly Burgess, congratulations! What did you learn from being involved in the program and competing as a team?
Thanks! Actually crazy that it all happened this year, it feels like years already. It was an awesome experience and a great opportunity to work on a truly digital-first brief. The week was packed with workshops and talks, but the 24-hour brief taught us a lot – like how to ideate fast…in humidity. Quite the task.
How did you hear about Young Lotus in the first place, and what made you want to be part of it?
I'd heard about the program a couple of years ago, but it doesn't always include a team from Australia. We'd never been to an award show, or competed overseas so we were super keen to be involved. And, you know, tropical Thailand was a pretty big drawcard too.
You were given a real-world brief from Google, and judges said you "went beyond what was expected". What was your idea and why do you think it won?
Asking questions is at the heart of Google Home. What's the weather? Can you add oranges to my shopping list? But these kinds of questions underestimate the power of Google. So, our idea was to get people to ask bigger questions of Google and make the worries of the world a little less confronting. It was a pretty back-end heavy idea, but it was basically about taking big questions like "Hey Google, how do I solve climate change?" and breaking it down into actionable tasks to incorporate into your daily routine. Like reminding you to take your reusable bags to the shops. Or turning the lights off for you when you leave the home. Why did it win? That's probably because we focused on human insight and human behaviour. We tapped into a pre-existing (and universal) concern, and made people feel like they could do something about it with Google Home.
Any favourite memories of Thailand?
Presenting our idea to hundreds of people with Holly is something I'll definitely remember – it felt like a real Steve (Stephanie?) Jobs moment trying to figure out those groovy earpiece microphones. We were prettttty nervous, but all the other teams were super supportive and made it fun. Each morning we actually commuted with them from the hotel to the festival in the tray of a truck – that was particularly hilarious.
You joined Leo Burnett in 2016 working on brands like Bonds and Honda. What have you learned over this time, and what are you proudest of?
Leo's is full of really smart, insightful and creative people, but no one has a big head about it. I've definitely learnt that you don't need to be a bulldog to succeed and that a good idea really can come from anywhere. I'm most proud of some of the early work we did for Bonds – Hot Town and Queendom specifically. It was great to be able to reinvigorate such an iconic brand that I'd grown up with. And fashion that doesn't take itself too seriously was an area Holly and I were able to have a lot of fun with. I've also been lucky enough to create campaigns for other iconic Australian brands, like Connoisseur, and international brands like Honda and Twinings. Every brand has its own challenges but, when you're surrounded by smart, creative and capable people, nothing's too hard to handle.
What can you tell us about the creative culture in Melbourne?
Melbourne has a pretty ambitious creative culture. So much so that a lot of amazing young talent end up on the other side of the world, killing it in huge international agencies (*crying face* Holly *crying face*) Note to Barbara: is this supposed to be an emoji when we put in buzz?. That being said, I've been tutoring Award School for the last couple of years, and I reckon Melbourne agencies have got some seriously smart, fresh, unjaded brains coming our way.
Six years into your career, do you have any advice on succeeding/surviving in ad land?
I've always been a bit of a problem solver, even when the problems weren't really mine to fix. So advertising was a bit of a no brainer for me. Advice? Stay humble and be a good human – no one wants to work with a jerk. But don't lose sight of your own ambition in the process.
What have you been working on lately?
Since Holly left for Amsterdam, I've been working with my good pal and new Copywriter (in that order) Rosie Stone. She too is short, brunette, freakishly-obsessed with dogs and wildly talented – so, you know, the transition has been pretty smooth! We've been busy working on a new Bonds campaign and a few other real fun projects that we probably shouldn't talk about... yet.
* To enquire about joining the Young Lotus 2020 program, contact YoungLotus@ADFEST.com