NEWS
SPEAKERS : DON'T MISS YOUR CHANCE TO SEE THE WORLD THROUGH THE PRESIDENTS' EYES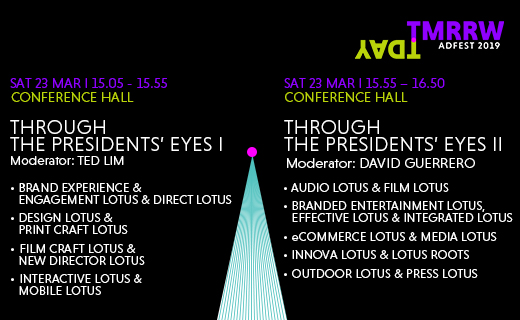 Do you ever wish you could go behind the doors of the judging room to learn the secrets of what makes some works great, and others exceptional?
At ADFEST 2019, our Jury Presidents will appear in two live panel sessions. They'll be interrogated on stage by Ted Lim and David Guerrero, who are on a mission to find out the ingredients of a Lotus-winning campaign.
The first 'Through the Presidents' Eyes' session takes place on Saturday 23rd March, 3.05pm - 3.55pm, and will be moderated by Ted Lim.
Lim is Chief Creative Officer of Dentsu Asia-Pacific, which means he works with no less than 26 offices across 15 countries from China to Australia. He'll be posing some tough questions to members from the following juries:
- Brand Experience & Engagement Lotus & Direct Lotus
- Design Lotus & Print Craft Lotus
- Film Craft Lotus & New Director Lotus
- Interactive Lotus & Mobile Lotus
The second session, 'Through the Presidents' Eyes II', takes place immediately afterwards from 3:55 – 4:50pm, moderated by David Guerrero, Creative Chairman of BBDO Guerrero.
Guerrero launched BBDO Guerrero in 1998 and it remains one of the most consistently awarded agencies in the region. He'll be interrogating judges from the following juries:
- Audio Lotus & Film Lotus
- Branded Entertainment Lotus, Effective Lotus & Integrated Lotus
- eCommerce Lotus & Media Lotus
- INNOVA Lotus & Lotus Roots
- Outdoor Lotus & Press Lotus
Jimmy Lam, President of ADFEST, says: "I can't think of two better people to host our Jury Presidents sessions this year – Ted and David are both creative leaders at the top of their game who can be relied upon to grill our jury about the winners of the 2019 ADFEST Lotus Awards."
Book your tickets to ADFEST 2019 today. Choose between Full Delegate, Young Delegate (for those 28 or under) and Student packages for the full four-day festival, or either of two streams: Craft@ADFEST on 20th – 21st March, or Creative@ADFEST on 22nd – 23rd March.