NEWS
Q&A : VANDAL'S EMILE RADEMEYER: "AUGMENTED REALITY IS THE FUTURE OF ADVERTISING"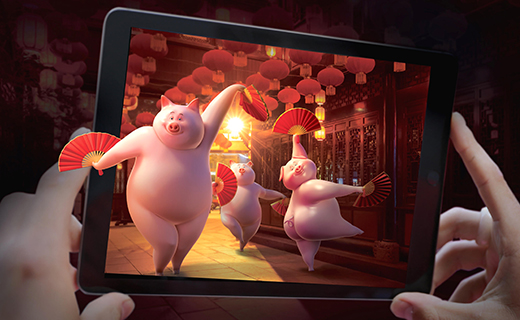 Emile Rademeyer, Creative Director at VANDAL in Sydney, predicts a Bladerunner-esque future in which any surface can be transformed using augmented reality.
If he's right, creatives of the future are going to need very different skills in order to transform entire environments "with an augmented, digital overlay" – a task that's obviously very different from making an ad.
Can you give some clues as to the case study you'll be showcasing at ADFEST 2019?
How did advertising get here? What does the future have in store for us? The case study will showcase the experiential power of augmented reality and how it evokes real human emotion that enhances consumer behaviour. It will also reveal the vast treasure trove of data available and how to make use of it.
Are there any AR projects you're especially proud of playing a role in?
VANDAL's AR campaign for World Square Lunar New Year 2018 is a project I'm particularly proud of. In an Australian first, VANDAL with our partner Virtual Immersive delivered an AR campaign that utilised brand new technology never before implemented to this scale in Australia.
The campaign was a roaring success and has most certainly redefined the retail landscape here in Australia. It has been awarded many gold accolades and is a testament to our client's forward-thinking attitude in embracing creative use of technology such as AR.
What's VANDAL all about – how is it different to more traditional production companies?
VANDAL is a creative studio that crafts innovative moving images, sound, art and experiences for digital platforms of all kinds. Our work includes beautifully crafted executions for entertainment platforms, interactive experiences, advertising, animation, visual effects, projection mapping, virtual reality, augmented reality, digital placemaking as well as niche art, design, sculpture and experiential projects.
VANDAL doesn't use technology for the sake of using technology. Our focus is on creativity: having an exceptionally strong idea and the ability to utilise technology to bring ideas to life never thought possible before. We're media and medium independent and can utilise any physical or digital platform to bring creativity to life. This has been very appealing to our clients and has set us apart from more traditional production companies.
You oversee curation of the VANDAL Art Gallery in Redfern. Why did you take on this side gig and what sort of work do you showcase?
VANDAL Gallery showcases our groundbreaking collaboration with the best artists, creatives, coders, technologists, designers, illustrators, animators, filmmakers, photographers and musicians. Home to Sydney Art Month, Fringe Festival and MCA Young Ambassadors, we invite anyone with a passion for creativity to collaborate with us in defining Sydney's most contradistinctive art gallery.
Are there any Australian new media artists that you have your eye on right now?
Singling artists out is always a tough one. Mixed-media artist Luke Batten's exhibition "Consumed" was off the charts, with an incredible amount of people attending opening night. I also loved Chris Leaver's "The Kingdom of God" for Sydney Art Month. Further abroad, my art crush is most certainly Felipe Pantone!
Favourite discovery of 2018?
Finally coming to the realisation (on their wedding day) that the actress from the TV show Suits is actually the same person that is getting married to Prince Harry. I always wondered how two people could looks so uncannily similar.
* 'Augmented Reality is the Future of Advertising', presented by Emile Rademeyer, takes place on Thursday 21st March, 12:25 – 1pm.