NEWS
INSIGHTS : THESE FOUR AMAZING CAMPAIGNS EMBODY THE RICHNESS OF LOCAL CULTURE IN ASIA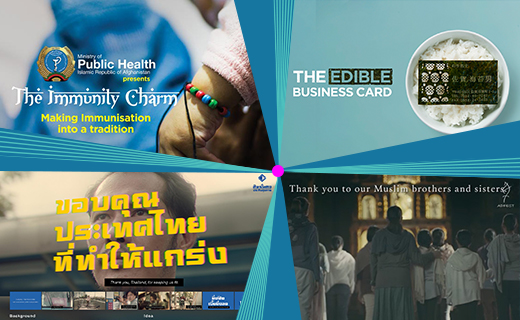 This week, we celebrate our Lotus Roots winners of 2018. Lotus Roots is an award that's unique to ADFEST. It celebrates those ideas that stand out in a sea of sameness by preserving and celebrating the rich heritage of local cultures in the Asia Pacific and Middle East.
"Lotus Roots is the signature award of ADFEST and the judges loved the work. It reflects the voice of the country where it came from and uses cultural insights to connect. It was really an honour to see that kind of work from the region – the winners are so, so impressive," said Joyce King-Thomas, Chairman and Chief Creative Officer of McCann XBC in New York, who joined ADFEST 2018 as Grand Jury President.
You can admire this year's Lotus Roots winners below:
IMMUNITY CHARM
Client: Ministry of Public Health, Afghanistan
Agency: McCann Worldgroup India, Mumbai
This campaign won the Grande Lotus Roots award, along with one Lotus Roots trophy. It solves a problem that's unique to Afghanistan using a charm bracelet that's unique to Afghanistan.
Afghanistan has one of the world's worst infant mortality rates. There is a high level of illiteracy and a traditional bias against immunisation. So, McCann had the idea of turning the lucky charm, which is given to many newborns to protect them from evil forces, into an immunity charm bracelet. Each bead is colour-coded to represent a specific vaccine, acting as messages from one doctor to another.
'Immunity Charm' turns culture into incentive, and makes immunisation into a tradition. It is now being extended to other provinces.
THE EDIBLE BUSINESS CARD
Client: Saga Nori
Agency: Geometry Global Japan, Tokyo
This delightful campaign uses laser-cut technology to create edible business cards made from seaweed. It's a campaign that could only have been made in Saga, Japan – a little known area of Japan, which generates one-quarter of Japan's seaweed production. To help Saga's government officials divulge that fact, Geometry had the idea of creating edible business cards etched with intricate, delicate patterns. The campaign puts a new twist on one of the oldest rituals in the country – turning business cards into an unique product sample. Around 5,000 cards were distributed in one month. 'The Edible Business Card' won two Lotus Roots awards at ADFEST 2018.
SYN MUN KONG: THANK YOU THAILAND
Client: SMK Health Insurance by Fit
Agency: Rabbit Digital Group Co. Ltd., Bangkok
Bangkok is nearly as famous for its hilarious TV commercials as it is for its crawling traffic and overcrowded public transport. Rabbit Digital Group had the idea of turning Bangkok's public transport system into a positive. It shows that anyone who can cope with navigating Bangkok on a daily basis deserves a 15% discount on health insurance premiums. Within the first 24 hours, the campaign attracted 1.5 million views, 8,600 shares and 58,900 interactions, and earned $183,000 worth of free media.
'Thank you Thailand' won one of just five Lotus Roots trophies awarded this year.
LOVE THY NEIGHBOR
Client: Association of Broadcasters of the Philippines
Agency: TBWA\Santiago Mangada Puno, Manila
Muslims are often been discriminated against in the Philippines, so the Association of Broadcasters of the Philippines launched a campaign to curb anti-Muslim sentiment spreading across the country in the wake of an ISIS military attack. Working with TBWA\Santiago Mangada Puno, they told the story of 64 Christians who escaped execution by wearing hijabs that were given to them by a Muslim brother during the Battle of Marawi. It's a touching, heartfelt campaign that says "thank you" to Muslim neighbours in the Philippines.
'Love Thy Neighbor' won one Lotus Roots trophy and helped TBWA\Asia-Pacific to enjoy its best ever performance at ADFEST with a total of 23 Lotus Awards.
· The deadline for Lotus Roots submissions to the ADFEST 2019 Awards is 11 January 2019. For more information, click here.