NEWS
SPEAKERS : WOULD YOU LIKE TO PRESENT AT ADFEST 2019?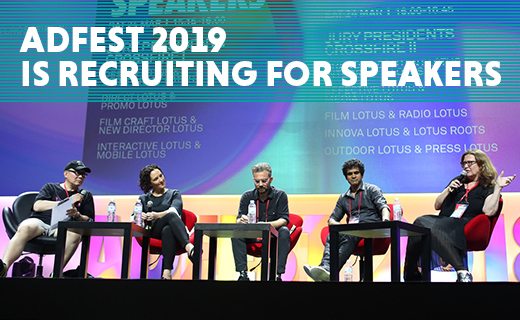 If you're interested in sharing your passion for creativity with the world, don't miss your chance to send in your program proposals to present at ADFEST 2019 – the deadline is 30th November!
Founded in 1998, ADFEST is Asia's most celebrated regional creative festival with over 1,200 delegates attending each year. Its mission is to raise the standard of creative excellence while honoring the uniqueness of local cultures across the region.
"Whether you're interested in giving a talk, sharing a case study, hosting a debate or moderating a panel discussion, we'd love to hear your ideas – particularly ideas that are rooted in local culture, or that echo next year's theme," says Kem Suraphongchai, ADFEST's Festival Director.
The theme of ADFEST 2019 is TMRRW.TDAY – it's about changing, throwing out the old, and building skills for the future.
The program will be divided into two streams, which consist of 35-minute sessions. Craft@ADFEST shines a spotlight on production, digital, content and technology trends and runs on 20th and 21st March; Creative@ADFEST will push the boundaries of the creative & communications industry and runs on 22nd and 23rd March.
It's a good idea to specify which stream is best suited to your session proposal. Please don't send sales pitches! Remember, our most popular sessions look beyond advertising and marketing to dive deep into emerging technology and cultural trends more broadly.
ADFEST is also accepting submissions to host workshops in 2019. Designed for up to 50 delegates for a maximum of three hours, ADFEST's workshops are hands-on learning experiences with high levels of interaction and engagement.
Make sure you have read through the Program Proposal Guide carefully before submitting your proposal. All proposals must be submitted online here.
The deadline for speaker sessions and workshop proposals is 30th November 2018, and successful applicants will be notified by mid-December 2018. ADFEST provides complimentary festival passes to all speakers, but does not cover travel, accommodation, or speaker fees.
For more information, please visit www.ADFEST.com or contact Amp at Sessions@ADFEST.com or Workshop@ADFEST.com.